As CPU heatsinks get bigger and bigger, their motherboard/case compatibility lists usually get smaller and smaller. But is that trade-off really necessary? Thermalright was the first heatsink manufacturer to implement heatpipe technology into processor air-coolers, and since then there have been numerous other manufacturers adopting a similar approach. But no-one has made a CPU cooler like this before: we are proud to present the biggest CPU heatsink we sell - the awesome Thermalright IFX-14!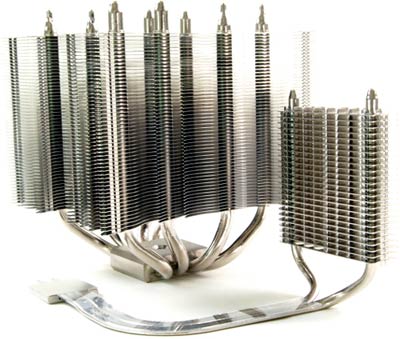 Thermalright IFX-14 with HR-10 cooler.
The IFX-14 (short for Inferno Fire eXtinguisher) not only vastly increases the cooling fins' surface area but gives you the option to install two whopping 14cm fans to increase airflow to the absolute max! You can even install a third fan if you're creative or crazy enough! We don't actually sell fans that big, but any of our 120mm fans will fit fine.
Another option that the IFX-14 gives you is to have the heatsink oriented in any direction to best fit your requirement for maximum airflow. It doesn't matter whether your system is Intel LGA775 or AMD socket AM2: either way, the IFX-14 offers great flexibility in its orientation.
If you think those are all the advantages the IFX-14 has to offer then read on. Thermalright developed a new multi-backplate to go with the IFX-14 in an effort to boost its cooling capacity even further. This multi-backplate is called the HR-10 and allows your processor to be cooled from beneath the motherboard! It not only cools your CPU from its underside but it also takes care of the heat coming from the bottom of the motherboard to further extend your system's life expectancy and stability.
The IFX-14 uses massive 8mm heatpipes that transfer every possible last bit of heat from the CPU to the heatsink fins, which are tightly soldered to the heatpipes to reduce transfer losses to a minimum. Together with the exclusive contour-designed look of "wild fire", the IFX-14 is not only an ultimate CPU cooler but also an overclocker's dream.
IMPORTANT: Before installation of the IFX-14 and HR-10, please make sure that you have at least 70mm of space for the HR-10 cooler to extend beyond the motherboard, (normally into the space in front of your PSU).
This product can be made AMD socket 939 compatible by using the 939 Bolt Thru Kit, sold separately.
Features
Larger surface area than any other heatsink - a huge 168 sq.cm!
Can be either run fanless or with up to three fans - 120mm or 140mm
Four large 8mm heatpipes to distribute massive amounts of heat fast and efficiently
Heatsink can be rotated 90° to best fit your system configuration
Multi-platform compatible backplate for installation on vast number and types of motherboard
Includes a secondary heatsink HR-10 which aids CPU and motherboard underside cooling
Specifications
| | |
| --- | --- |
| Compatibility | Intel LGA775 and AMD AM2 and socket 939 * |
| IFX-14 dimensions (L x W x H) | 146.2 x 124 x 161 mm |
| IFX-14 weight | 790g |
| IFX-14 recommended fan | 120mm or 140mm fan |
| HR-10 dimensions (L x W x H) | 134.5 x 163.5 x 112.6 mm |
| HR-10 weight | 130g |
| HR-10 recommended fan | >80mm or >70mm fan |