Zalman have introduced a new 10X CPU series cooler, the Zalman CNPS10X Performa. This new CPU cooler is designed and engineered to maximize the value/performance ratio, providing outstanding cooling performance and maximum quietness simultaneously.
Features
Powerful Cooling Performance: Optimized fin profile and heatpipe structure disperses up to 340W of heat away from the CPU via 5 high quality heatpipes.
Ultra Quiet 120mm PWM Fan (RC24P is included for Quiet Mode): Maximum quietness and long life expectancy can be achieved by ultra quiet PWM with Long Life Bearings.
Mid-Tower Case Compatible: Optimally designed heatsink size provides a perfect solution for the mid-tower case users without sacrificing cooling performance.
Multi-Clip for Versatile Compatibility: The CNPS10X Performa accommodates a broad range of Intel such as a new Core i3 and AMD's sockets with simple and convenient installation.
Dual Fan Support: The heatsink is designed to accommodate one or two fans according to the user's preference.
Distinctive Central Rippled Fins: Unique heatsink design with central rippled fins gives a sleek and cool look.
Super Thermal Grease STG2M Included: High performance thermal grease ZM-STG2M maximizes heat transfer for intensified cooling performance.
Zalman CNPS10X Performa Quiet CPU Cooler Specifications
Quiet CPU Cooler Specifications
Dimensions
132(L) x 100(W) x 152(H)mm
Weight
748g
Materials
Fins: Aluminum / Base: Copper
Dissipation Area
7,900cm2
Heatpipes
5 U-shaped heatpipes
Fan
4-Pin 120mm PWM Fan
Fan RPM
900~1,350 ±10% (RC24P Connected), 900~2,000 ±10% (RC24P Not Connected)
Noise
17~24dBA ±10% (RC24P Connected), 17~36dBA ±10% (RC24P Not Connected)
Fan Bearing
Long life bearing
Zalman CPU Cooler Components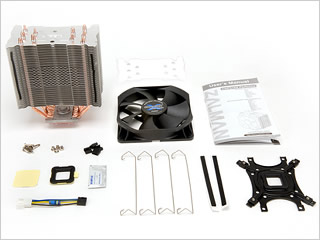 CNPS10X Performa
120mm Fan
Backplate
Resistor[RC24P]
Side Caps
Bolts
Nuts
Fan Fixing Clips
Vibration Pads
Loading Block
Thermal Grease(ZM-STG2)
Double-Sided Tape
User Manual
Note: Intel and AMD Clip components are provided with the relevant product.
Cautionary Notes
This cooler must be used with a 120mm fan.
Do not ingest the Thermal Grease, and avoid its contact with skin and eyes. If contact is made with skin, wash off with water. If ingested or irritation persists, seek medical attention.
To prevent possible injuries, gloves must be worn while handling this product.
Excessive force exerted on the fan may cause damage to the fan and/or system.
Use and keep product away from reach of children and pets.
Check the components list and condition of the product before installation. If any problem is found, contact the retailer to obtain a replacement.
Zalman is not responsible for any damages caused by overclocking.
During transportation of the system, the cooler must be removed.
Zalman is not responsible for any damages that occur during the transport of a system.
Product design and specifications may be revised to improve quality and performance.