The Enermax Revolution87+ 1000W Power Supply is the new feature packed power supply with 80Plus Gold efficiency. With the Revolution87+ the Enermax team have created another low noise, top performance power supply, clearly demonstrating their ability to bring you the latest and greatest in power supply technology.
Enermax Revolution 87+ 1000W Features
7PLUS ready! Extreme efficiency PSU series with 87-93% efficiency @ 20-100% load. Certified to meet 80 PLUS® GOLD requirements.
ErP Lot 6 ready: Help system to meet ErP Lot 6 2010 (< 1W at standby mode) with high efficient +5Vsb circuitry. (Required for ErP Lot 6 2010 compliant systems.)
Dynamic Hybrid Transformer Topology: Technological breakthrough topology using a staged dynamic transformer array for extremely high efficiency with the most durable and stable output at any load.
C6 & Hybrid ready! Maximum compatibility with C6 & hybrid states of current and future CPU & GPU generations by ZERO LOAD design (no minimum load).
Twister fan inside! 13.9cm Twister-bearing fan with low noise and long lifetime. (100,000 hours MTBF, Patented)
100% 105°C Japanese electrolytic capacitors: Highest components standards for maximum durability and stability
Future ready! 12P modular design for possible upcoming new CPU and GPU 10P and/or 12 connectors.
DXXI ready! 100% 6+2P (8P) PCI-E connector to support new generation DXXI graphic cards.
24/7 @ 50°C ready! Non-Stop industrial class performance at 50°C ambient.
Gaming ready! ATX12V v2.3 support for latest Intel® Core™ 2 Duo/Quad/Extreme/i7/i5, and AMD® Athlon™ 64X2 & Phenom™ II and CrossFireX™.
SERVER ready! SSI PSDG support for latest Intel® Core™ Extreme/i7, Xeon™ and AMD® Opteron™ and SLI® or CrossFireX™ and downward compatible with EPS12V v2.92, v2.8.
World ready! 100-240VAC in with automatic adjustment and active PFC for global usage.
SpeedGuard: The best rail design for this PSU class for maximum safety and compatibility.
HeatGuard: Keeping PSU fan running for 30-60 seconds after shut down to dissipate the remaining system heat and prolonging system lifetime.
CordGuard: CordGuard Fixing the AC cord tightly to avoid accidental shutdowns of your PC.
SafeGuard: Advanced multiple protection circuitries of OCP, OVP, DC UVP, AC UVP, OPP, OTP, SCP & SIP protects your system.
Enermax Revolution 87+ 1000W Cables and Connectors
| | | | |
| --- | --- | --- | --- |
| | | | |
| | | | |
| | | | |
EMC014-G: 2 x 6P (8P) PCI-E 2.0 (50/50cm) x2
EMC019-G: 4 x SATA (45/60/75/90cm) x2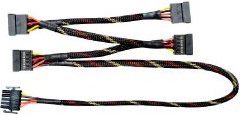 EMC020-G: 4 x 4P Molex + 1 x FDD (45/60/75/90/105) x1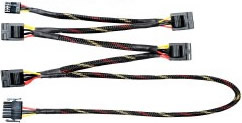 EMC021-G: 2 x SATA + 2 x 4P Molex (45/60/75/90cm) x2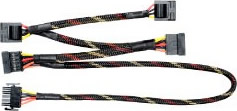 Power Supply Specification
Enermax Revolution 87+ 1000 Watt Power Supply Technical Specification

ERV1000EWT-G

AC Input Voltage
115~240VAC, 50~60Hz, Active PFC
AC Input Current

11 - 5A

DC Output Rating

Rated

Combined

+3.3V

24A

120W

+5V

24A

+12V1

30A

996W (83A)

+12V2

30A

+12V3

30A

+12V4

30A

-12V

0.5A

6W

+5Vsb

3A

15W

Total Power

1000W

Peak Power

1100W
Enermax Revolution 87+ 1000W Reviews
The Bottom Line: Excellent performance all the way around make the Enermax Revolution87+ a must have. Read the full review at TweakTown.com.
Pros: Great design, Nice appearance, high efficiency, excellent noise suppression. Kitguru says: Another quality, high performance power supply from Enermax. Read the full review at KitGuru.net.
Enermax comes out of the gate swinging with their latest version of the Revolution series of units. This bad boy is efficient, stable, semi-modular, and sturdy. While most other manufacturers are doing their level best to one up each other at the 80 Plus labs, Enermax seems to be more interested in boosting efficiency over a wider operating range. This has not gone unnoticed by yours truly. I'd like to see this from more companies. 80 Plus is all well and good if you want a fancy logo to put on the side of your box, but where I sit; efficiency at the desktop surfing the web is important, too. Great job, Enermax. A well deserved recommendation, you get. Read the full review at JonnyGuru.com.