* PLEASE NOTE: This model will be available end of April 2016.
Based on the award-winning original SWiF design, the new SWiF2 series of high-performance quiet fans takes its successful predecessor's proven qualities one step further by adding hydro-dynamic bearing as well as an unique color scheme.
The new hydro-dynamic bearing ensures whisper quiet operation and even better longevity, which is reflected in an enhanced warranty time of 60 months.
Now also available with support for PWM fan speed control, the SWiF2-92P provides excellent silent performance.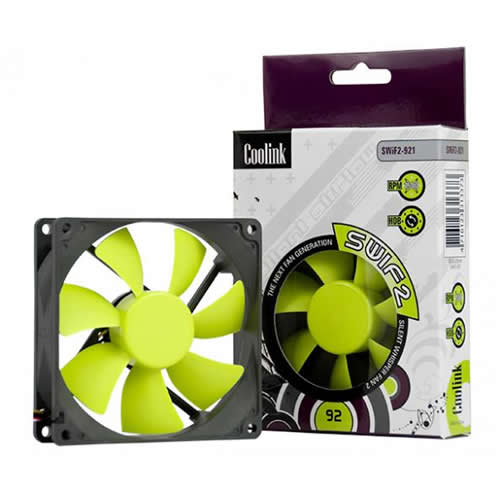 Coolink SWiF2-92P 92mm Quiet Cooling Fan.
SWiF2-92P Fan Features
1. Supports PWM fan speed control
2. High-performance hydro-dynamic bearing
3. Protective cable sleeving
4. Includes Anti-Vibration Bolts & Screws
5. PWM splitter cable for connecting a second PWM fan
6. Trusted Coolink quality
SWiF2-92P Fan Specifications
SWiF2 Fan
92P
Size (mm)
92x92x25
Rotation Speed (RPM +/-10%)
800 - 1700
Airflow (m³/h)
60.4 - 127.6
Airflow (cfm)
35.5 - 75.1
Acoustical Noise (dB/A)
8.5 - 27.1
Input Power
3.96W
Input Current
0.33A
Voltage Range
7-13VDC
Warranty
60 months