Help to eliminate every last dB of PC noise by reducing the noise generated by fan vibrations!
Why are Fan Mounts Necessary?
Vibration from fan motors can travel into a PC case and become amplified when a fan is screwed tightly to the chassis. This unwanted noise is 'vibrational' or 'secondary', and it is an issue if you wish to build a very quiet or virtually silent PC.
These mounts have been designed & uniquely produced by Acousti Products 'from the drawing-board' specifically to tackle fan-induced vibrational noise! Ultra-Soft Fan Mounts are a 'no-vibration' alternative to standard fan screws or hard plastic push pins.
To prevent the transmission of vibrations from a motor (such as a fan motor), the vibrating part needs to be decoupled (or disengaged) from the chassis or case, and the vibrations need to be damped (that is, attenuated). We have selected a ultra-soft silicone polymer that effectively decouples the fan from the case, and also attenuates unwanted vibration.
The 3-dimensional shape of a fan mount is intimately related to the mount material. A fan mount must be soft enough to be effective but also designed to securely hold a fan in position. Acousti Products have designed both the shape and materials together to give a widely compatible fan mount that is also the very softest and most effective available!
Why are these Mounts any better than Others?
We have chosen an ultra-soft silicone polymer because it is softer and more chemically stable than cheaper and inferior alternatives like rubber or EPDM. Cheaper alternatives can leach oils and tend to degrade more readily over time - they also tend to be more reactive with some plastics (wires etc.) than silicone. Silicone is non-toxic, more chemically stable, and can also tolerate higher temperatures - so it is a superior material for this particular use.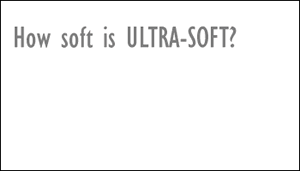 How soft is ULTRA-SOFT? These are the SOFTEST mounts available! For example, elongation is over 100%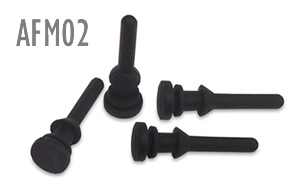 AFM02B Retail Pack contains 8 anti-vibration mounts, enough for 2 fans. AFM02B & AFM03B OEM Packs contain 100 anti-vibration mounts, enough for 25 fans.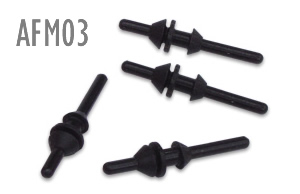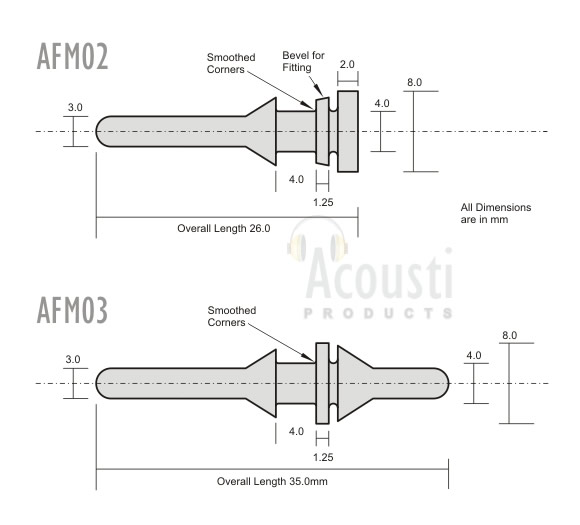 AFM02 and AFM03B Ultra-Soft Fan Mount Design. The fan mount has been designed with smoothed corners to prevent the propagation of cracks when stretched. When in position, the fan is held 1.25mm away from the case side - this is just enough to allow free movement of the fan and effectively absorb vibrations, but not too much to cause excessive air pressure loss around the fan.
Ultra-Soft Fan Mounts fit FLANGE TYPE fan moldings!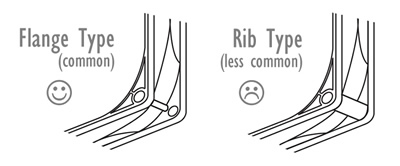 Flange type fans (shown on the left) do not have a 'tunnel' connecting the mounting holes like Rib type fans. Flange type design is the most popular type of fan moulding used in PCs & Servers.
AFM02 - Fitting Directions: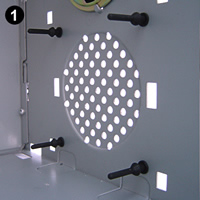 1. Fit fan mounts to the case FIRST! Thread the fan mounts from the outside of the case through the case fan mounting holes, and pull the end of the mount (the arrowhead part) though until the mount 'pops' into position.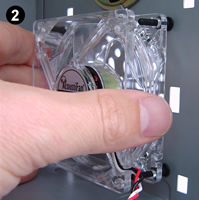 2. Thread the fan onto the fan mounts. Align the mounting holes on the fan corners with the fan mounts, and gently place the fan onto the mounts, so that they poke through each hole.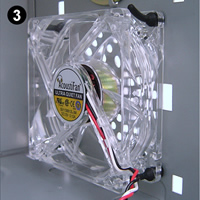 3. Pull fan mounts through fan holes. Using your forefinger and thumb, carefully pull the 'arrowhead' part of the fan mounts through the fan mounting holes. The trick here is to pull through and sideways at the same time, easing the arrowhead through. The arrowhead should pull though with a small 'pop'.
AFM03 - Fitting Directions:
Fitting the AFM03B fan mounts differs in that the fan mounts need to be fitted to the fan first, and then the fan assembly fitted to the fan mounting holes. This makes the AFM03B model easier to fit in restricted spaces and therefore may be more suitable for OEM and IT System Builders.
Ultra-soft fan mounts - designed & produced by Acousti Products 'from the drawing-board'. These fan mounts are an easy to fit, cost effective solution to tackle PC fan vibration noise! Each pack is supplied with 8 fan mounts, enough for 2 case fans.
Truly 'ultra-soft' & flexible - these mounts are designed to help reduce the transmission of fan motor vibration... helping to eliminate every last dB of PC noise
Designed to fit the vast majority of fans and PC cases
Quick & easy to fit as a 'no-vibration' alternative to fan screws. These mounts do not require any case modifications
Features
Extra-soft black silicone gives optimal fan noise reduction.
Compatible with all fans with standard mounting holes.
Easy to fit and remove - no case modifications required.
Excellent value for money and long-lasting (durable and tearproof).
Specifications AFM02B

Fan Type
Designed to fit Flange Type fans
Range of Fan Mounting Holes
4.0 - 5.25mm diameter
Range of Case Mounting Holes
4.0 - 5.5mm diameter
Maximum recommended panel thickness
1.8 mm
Length
26mm
Largest Diameter
8.0mm
Max. Elongation
>100%
Weight each
0.4 g
Color
Matt Black
Material
Ultra-Soft Silicone Dampening Polymer
Toxicity
Non-toxic
REACH environmental compliance
Yes
Normal Operating Temperature Range
-20°C to +70°C
If you are a reseller or a system builder we offer special pricing on bulk orders of this product. Contact us at sales@quietpcusa.com or call Toll Free (877) 205-2020 for more information.