The new AcoustiPack™ EXTRA Foam Blocks pack contains 3 acoustic foam blocks. These can be used inside any vacant drive bays to help increase the absorption of unwanted sound energy. Once installed, the foam blocks also help to reduce the internal air volume inside your PC or server case, which in turn may improve airflow velocity and the cooling performance.
The blocks are made from profession-grade dense acoustic foam, which is certified to UL94-HF1 fire rating. The foam is especially effective at absorbing sound at higher-frequency, such as HDD whine, or high-pitch noise from motherboard components. The foam is black, and flexible enough to squeeze into empty 5¼ inch or 3½ inch drive bays to pressure-fit.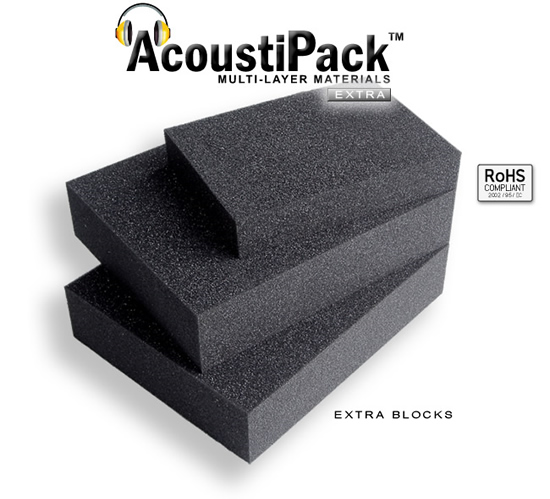 AcoustiPack™ EXTRA Block.
Overview - AcoustiPack™ EXTRA Foam Blocks
AcoustiPack™ EXTRA Foam Blocks
What's In the Box?
Product Code:
APExtB
3.5 inch Drive Bay Block (for HDD or FDD Bay)
1
5.25 inch Drive Bay Block (for Optical Drive Bays such as DVD, CD-ROM)
2
TOTAL Number of Sheets:
3
Product User Instructions:
Included
Block Dimensions
3.5" Block Dimensions: (WxDxH)
140 x 103 x 26mm
5.25" Block Dimensions: (WxDxH)
180 x 147 x 41mm
Other Details
Flammability Certificate:
UL94-HF1 (UL Listed Material)
RoHS Certified
YES
Acoustic Materials in AcoustiPack™ EXTRA Blocks
AcoustiPack™ EXTRA Foam Block is precision-cut from a semi-open cell dense but flexible professional-grade polyurethane acoustic foam.
It has a new improved dark gray/black co lour, and is non-shedding and does not crumble or generate dust. This acoustic foam is over 60Kg/m³ - which is unusually dense compared to cheaper alternative noise-reduction foams (most are under 30Kg/m³).
The reasons we choose to source such a high-density acoustic foam are:
Higher density improves the sound absorption efficiency at lower frequencies (sub-1kHz) - which is critically within the range we are seeking to eliminate
Higher density materials help to maintain a low flammability performance
Higher density foams can withstand being manufactured into thin 'low-reflection' layers for dual-layer composites
Flammability
The acoustic foam is certified to the highest appropriate UL94 specification for a foamed product (UL94 HF1) for low flammability.
RoHS (Restriction Of the use of certain Hazardous Substances)

RoHS certified.The foam is RoHS certified. RoHS restricts the use of six substances to within specified limits (Lead Pb, Cadmium Cd, Mercury Hg, Hexavalent Chromium Cr+6, Polybrominated biphenyls PBB and Polybrominated diphenyl ethers PBDEs/PBBEs) within Electrical and Electronic Equipment (often referred to as EEE), thereby contributing to the protection of human health and the environment.
Normal Operating Environment
The foam material is suitable for use in indoor environments within the temperature range -40°C to +100°C, which is in excess of those typically suitable for IT equipment.
AcoustiPack™ EXTRA Blocks Packaging
The AcoustiPack™ product range have been designed to be shipped to the end-customer without the need for extra packaging. The individual product packaging is not printed on one side, and is strong enough to withstand normal handling during transit. The cardboard has a min recycled content of 35%.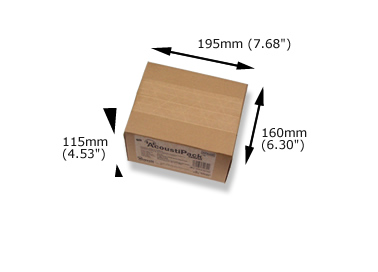 AcoustiPack™ EXTRA Blocks
Individual Product Packaging Information:
APExtB x1
Pack Weight:
0.30Kg (0.66lbs)
Pack External Dimensions: (WxDxH)
195 x 160 x 115mm
(7.68 x 6.30 x 4.53")
Multiple Products Packaging Information:
APExtB x12
Quantity per Shipping Box:
12
Shipping Box Weight:
3.63Kg (8.00lbs)
Shipping Box External Dimensions: (WxDxH)
500 x 400 x 250mm
(19.6 x 15.75 x 9.84")
Distributor & Reseller Information:
AcoustiPack™ EXTRA Blocks
Product Bar Code: (EAN-13)
5060087740324
Suitability

This pack is suitable for any PC with a free 3½" drive bay, and/or a free 5¼" drive bay.
For more technical and installation information please visit the Acousti Products US website.
Acoustic Materials manufactured in the USA.
Cautionary Notes
NOTE: The blocks must not be used directly against warm components - always allow adequate circulation around adjacent components such as HDDs.
Please take care to read the installation recommendations before installing this product. These materials are installed at the installer's own risk.
If you are a reseller or a system builder we offer special pricing on bulk orders of this product. Contact us at sales@quietpcusa.com or call Toll Free (877) 205-2020
(877) 205-2020 for more information.