The HR-03 series started life early 2007 and is highly recommended by many computer hardware enthusiasts. It doesn't matter if it's the HR-03 R600 or the HR-03 GT, they are all able to bring out the best in your high end video card with unprecedented overclocking results by providing maximum cooling performance.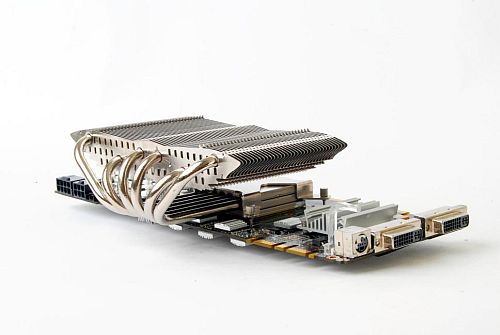 Features
6 quality heatpipes for maximum amount of heat transfer to work with 120mm*25mm fan for best configuration to suit your needs (fan not included).
Nickel-plated heatpipes to reduce oxidation effect, maintaining top performance for long term usage.
Proprietary through holes on fins for efficient ventilation and proficient cooling.
Heatpipes soldered to every heatsink fin to increase heat transfer efficiency.
Includes the VRM heatsink with proprietary thru holes adapted from the High Riser Series for best heat dissipation.
Sleek and stylish appearance.
Technical Specifications
Dimension: L133 x W156 x H38 mm Weight: 410g
Recommended Fan: 120 x 120 x 25mm fan
Heat pipes: Six heat pipes Nickel Plated Base material: copper
Compatible Graphic Cards
nVidia GTX280
nVidia GTX260 (65mm)
nVidia GTX285
nVidia GTX260 (55mm) (VRM Heatsink not included)
Please Note: When installing on a GTX Series video card a 120mm fan must be used.
Thermalright's FAQs on the HR-03 GTX can be found here.