The SWiF2-800 Quiet 80mm Cooling Fan is based on the award-winning original SWiF design, the new SWiF2 series of high-performance quiet fans takes its successful predecessor's proven qualities one step further by adding hydro-dynamic bearing as well as an unique color scheme.
The new hydro-dynamic bearing ensures whisper quiet operation and even better longevity, which is reflected in an enhanced warranty time of 60 months.
The SWiF2 series provides excellent silent performance and includes a full range of trusted Coolink quality fans, suitable for all applications inside your system.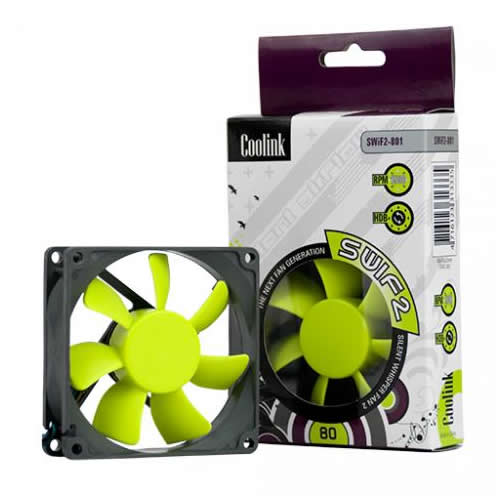 Coolink SWiF2-800 80mm Quiet Cooling Fan
SWiF2-800 Fan Features
High-performance hydro-dynamic bearing
Protective cable sleeving
Includes Anti-Vibration Bolts & Screws
Trusted Coolink quality
SWiF2-800 Fan Specifications
Fan size
80x80x25 mm
Manufacturer
Coolink
Model
SWiF2-800
Air volume m3h ±10%
32.5
Air volume cfm ±10%
19.1
Noise level dB(A)
9.5
Fan speed RPM ±10%
1100
Power consumption
0.54W
Input current
0.05A
Approximate cable length, cm
30
Life expectancy @ 25°C continuous use
3 years
Bearing type
High performance Hydro-dynamic bearing

Fan depth
25 mm
Rated voltage
4 - 13VDC