In 2007, ATI has finally released their long awaited DirectX 10 graphics cards. More specifically the HD-2900XT. To those who are in the business of graphic design which rely intensively on this type of particular video card, the reception was nothing but glorified. After the hype about the new technology, the advanced features and wonders of the HD-2900XT, users have found themselves satisfied with the performance that ATI had previously promised.
But much to the dismay of many, the GPU temperatures are reaching the much feared danger territory. It is known that the power consumption can reach as high as 300W or more! That tops even the mighty 8800GTX by Nvidia! With a hot GPU comes hot electrical components including the memory chips. In an actual lab test, Thermalright found the GPU temperature reached as high as 90°C! Which is exactly the reason Thermalright developed a HR-03 specifically for the HD2900 series.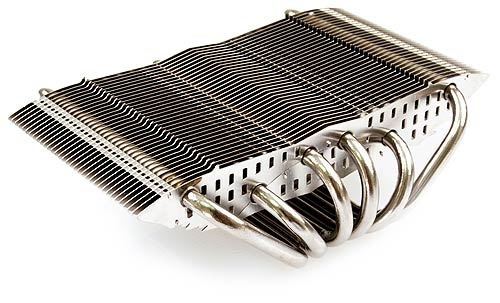 Thermalright HR-03/R600.
Features
Specially designed for ATI HD2900 series VGA cards
Six heatpipes for maximum amount of heat transfer
Proprietary two soldered heatsinks to maximize cooling capacity
Light weight and easy no-tool installation
Specifications
| | |
| --- | --- |
| Compatibility | HD-2900XT and HD-2900PRO, both 512MB and 1GB versions are supported |
| Dimension | L133 x W156 x H38 mm (heatsink only) |
| Weight | 410g (heatsink only) |