The CS-60 is a midi-sized computer case that is perfectly suited to house a fanless PC system although it can of course be used as a conventional PC case too. The main reason for its appeal as the basis for a fanless PC is its many perforated ventilation holes, as you can see from the photograph. These holes allow the warm air generated by the system to be easily and quickly removed from the case without the use of any fans!
The layout out of the case is unconventional in that the ATX power supply is installed toward the bottom of the case, which allows the hot air from the power supply to rise through natural convection. The case is designed to accommodate a Micro ATX sized motherboard only.
NoFan CS-60 mATX Computer Case Features
Ideal mid-size PC case for a fanless/IcePipe PC
Compatible with Micro ATX motherboards
Excellent quality and sturdy construction
Offers convenient front ports: Audio, USB 3.0 and dual USB 2.0
5.1 x 3½" plus 3 x 5¼" drive bays
Capable of supporting up to four SSDs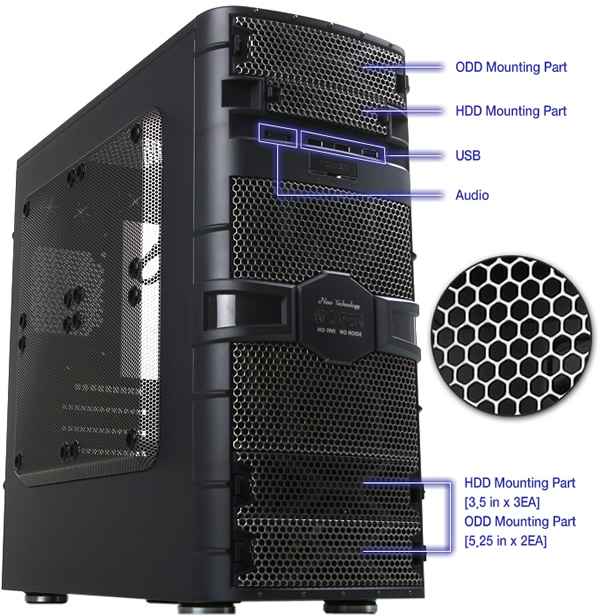 NoFan CS-60 mATX Computer Case Specification
Technical Specification
Case model

Nofan CS-60

Motherboard compatibility

Micro ATX and Mini ITX

Front USB ports

2 x USB2, 1 x USB3

Front audio ports

Headphone and microphone 3.5mm jacks

3½ / 5¼ inch drive bays

1 / 3

Dimensions (W x D x H)

196 x 426 x 430 mm

Expansion Slots

5

VGA Compatibility

Second PCI-E

Weight

4.2Kg

Maximum PCI card length (PCB only)

330 mm

Warranty

24 months

EAN barcode

8809318200032
NoFan CS-60 mATX Computer Case Components
Main body
Stand (front side 1 / rear side 1)
CPU 12V extended cable 1
Stand-Off 11
A bolt (PH 6-32*12) 12 [HDD fixed]
B bolt (PH 6-32*6) 24 [M/B, PSU fixed]
C bolt (PWH M3*12) 4 [Foot embedded]
D bolt(PWH M3*6) 4 [SSD embedded]
Cable tie 10
HDD pad
User guide
Please note: Power supply is not included with case.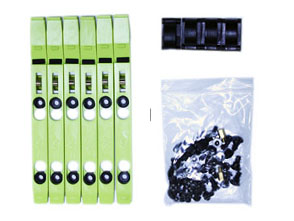 RAM Compatibility

If you are a reseller or a system builder we offer special pricing on bulk orders of this product. Contact us at sales@quietpcusa.com or call Toll Free (877) 205-2020 for more information.